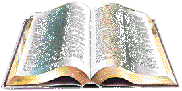 II PETER 1:20,21
20 knowing this first, that no prophecy of scripture is of private interpretation. 21 For no prophecy ever came by the will of man: but men spake from God, being moved by the Holy Spirit.
LUKE 24:44
44 And He said unto them, These are My words which I spake unto you, while I was yet with you, that all things must needs be fulfilled, which are written in the law of Moses, and the prophets, and the psalms, concerning Me.
DEUTERONOMY 18:18,19
18 I will raise them up a prophet from among their brethren, like unto thee; and I will put My words in His mouth, and He shall speak unto them all that I shall command Him. 19 And it shall come to pass, that whosoever will not hearken unto My words which He shall speak in My Name, I will require it of him.