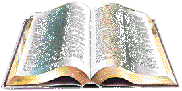 ISAIAH 7:14; 9:6
14 Therefore the Lord Himself will give you a sign: behold, a virgin shall conceive, and bear a son, and shall call His name Immanuel.
9:6
6 For unto us a child is born, unto us a son is given; and the government shall be upon His shoulder: and His name shall be called Wonderful, Counsellor, Mighty God, Everlasting Father, Prince of Peace.
MATTHEW 1:21-23
21 And she shall bring forth a son: and thou shalt call His name Jesus; for it is He that shall save His people from their sins. 22 Now all this is come to pass, that it might be fulfilled which was spoken by the Lord through the prophet, saying, 23 Behold, the virgin shall be with child, and shall bring forth a son, and they shall call His name Immanuel; which is, being interpreted, God with us.
ISAIAH 53:1-9
1 Who hath believed our message? And to whom hath the arm of Jehovah been revealed? 2 For He grew up before Him as a tender plant, and as a root out of a dry ground: He hath no form nor comeliness; and when we see Him, there is no beauty that we should desire Him. 3 He was despised, and rejected of men; a man of sorrows, and acquainted with grief: and as one from whom men hide their face He was despised; and we esteemed Him not. 4 Surely He hath borne our griefs, and carried our sorrows; yet we did esteem Him stricken, smitten of God, and afflicted. 5 But He was wounded for our transgressions, He was bruised for our iniquities; the chastisement of our peace was upon Him; and with His stripes we are healed. 6 All we like sheep have gone astray; we have turned every one to his own way; and Jehovah hath laid on Him the iniquity of us all. 7 He was oppressed, yet when He was afflicted He opened not His mouth; as a lamb that is led to the slaughter, and as a sheep that before its shearers is dumb, so He opened not His mouth. 8 By oppression and judgment He was taken away; and as for His generation, who among them considered that He was cut off out of the land of the living for the transgression of My people to whom the stroke was due? 9 And they made His grave with the wicked, and with a rich man in His death; although He had done no violence, neither was any deceit in His mouth.
LUKE 18:31-33
31 And He took unto Him the twelve, and said unto them, Behold, we go up to Jerusalem, and all the things that are written through the prophets shall be accomplished unto the Son of man. 32 For He shall be delivered up unto the Gentiles, and shall be mocked, and shamefully treated, and spit upon: 33 and they shall scourge and kill Him: and the third day He shall rise again.
MATTHEW 8:14-17
14 And when Jesus was come into Peter's house, he saw his wife's mother lying sick of a fever. 15 And He touched her hand, and the fever left her; and she arose, and ministered unto Him. 16 And when even was come, they brought unto Him many possessed with demons: and He cast out the spirits with a word, and healed all that were sick: 17 that it might be fulfilled which was spoken through Isaiah the prophet, saying, Himself took our infirmities, and bare our diseases.