<![if !vml]><![endif]> Translate
DO YOU FEAR GOD?
David L. Odom
Perhaps one of the clearest passages on this subject is where Jesus said -
Luke 12 :4, 5
"4 I say to you, My friends, do not be afraid of those who kill the body and after that have no more that they can do. 5 But I will warn you whom to fear; fear the One who, after He has killed, has authority to cast into hell; yes, I tell you, fear Him!"
Pretty clear isn't it, but Satan doesn't want the Truth to prevail, so he teaches lots of false doctrines on this subject!
Thus many religious people today are saying you should NOT fear God?
Have you ever studied the word 'FEAR' in your Bible with a complete concordance?
I would encourage you to do so! You will quickly find out how IMPORTANT it really is to PROPERLY FEAR your CREATOR! Let's look as some of those passages.
But first, let us define this word we are studying -
This fear that we need is NOT that FEAR that involves cowardice or timidity!
2 Timothy 1:7
"For God has not given us a spirit of fear (fearfulness, timidity), but of power and love and discipline."
John 14:27
"Peace I leave with you; My peace I give to you; not as the world gives do I give to you. Do not let your heart be troubled, nor let it be fearful."
This is the kind of fear that we find in -
Revelation 6:16, 17
"16 and they said to the mountains and to the rocks, 'Fall on us and hide us from the presence of Him who sits on the throne, and from the wrath of the Lamb'; 17 for the great day of their wrath has come, and who is able to stand?"
Notice that they are not fearing physical death, in fact, they want it, to escape (they think) from the presence of Him who sits on the throne, and His wrath! What they are greatly fearing is the punishment in that place called Hell, the eternal lake of fire!
Revelation 21:8
"But for the cowardly (fearful) and unbelieving and abominable and murderers and immoral persons and sorcerers and idolaters and all liars, their part will be in the lake that burns with fire and brimstone, which is the second death."
So if we are not right in the sight of our Creator, we will have the above fear in the Judgment Day!
ARE WE PROPERLY PREPARED FOR THAT DAY?
If we do not take the opportunity NOW, while we have it, then it will be TOO LATE!
WISDOM WARNS US:
Proverbs 1:24-30
"24 Because I called and you refused, I stretched out my hand and no one paid attention; 25 and you neglected all my reproof; 26 I will also laugh at your calamity; I will mock when your fear comes, 27 When your fear comes like a storm, and your calamity comes like a whirlwind, when distress and anguish come upon you. 28 Then they will call on me, but I will not answer; they will seek me diligently but they will not find me, 29 Because they hated knowledge and did not choose the fear of Jehovah. 30 They would not accept my counsel, they spurned all my reproof."
Proverbs 2:1-6
"1 My son, if you will receive my words and treasure my commandments within you, 2 Make your ear attentive to wisdom, incline your heart to understanding; 3 For if you cry for discernment, lift your voice for understanding; 4 If you seek her as silver and search for her as for hidden treasures; 5 Then you will discern (understand) the fear of Jehovah and discover the knowledge of God. 6 For Jehovah gives wisdom; from His mouth come knowledge and understanding."
The fear we must have is the fear that is a REVERENTIAL FEAR toward God that motivates us to want to please Him above all else, and do His will above all else!
WHY?
Because of who He is, and what He does for those who fear Him!
Jeremiah 32:17-19
"17 Ah Lord Jehovah! Behold, You have made the heavens and the earth by Your great power and by Your outstretched arm! Nothing is too difficult for You, 18 who shows lovingkindness to thousands, but repays the iniquity of fathers into the bosom of their children after them, O great and mighty God, Jehovah of hosts is His name; 19 great in counsel and mighty in deed, whose eyes are open to all the ways of the sons of men, giving to everyone according to his ways and according to the fruit of his deeds;"
Jeremiah 32:38-40
" 38 They shall be My people, and I will be their God; 39 and I will give them one heart and one way, that they may fear Me always, for their own good and for the good of their children after them. 40 I will make an everlasting covenant (Hebrews 8-10) with them that I will not turn away from them, to do them good; and I will put the fear of Me in their hearts so that they will not turn away from Me."
Because He loves us and wants us to do the things that are pleasing in His sight!
Psalm 103:11-22
"11 For as high as the heavens are above the earth, so great is His lovingkindness toward those who fear Him. 12 As far as the east is from the west, so far has He removed our transgressions from us. 13 Just as a father has compassion on his children, so Jehovah has compassion on those who fear Him. 14 For He Himself knows our frame; He is mindful that we are but dust. 15 As for man, his days are like grass; as a flower of the field, so he flourishes. 16 When the wind has passed over it, it is no more, and its place acknowledges it no longer. 17 But the lovingkindness of Jehovah is from everlasting to everlasting on those who fear Him, and His righteousness to children's children, 18 To those who keep His covenant and remember His precepts to do them. 19 Jehovah has established His throne in the heavens, and His sovereignty rules over all. 20 Bless Jehovah, you His angels, mighty in strength, who perform His word, obeying the voice of His word! 21 Bless Jehovah, all you His hosts, you who serve Him, doing His will. 22 Bless Jehovah, all you works of His, in all places of His dominion; bless Jehovah, O my soul!"
Because the Judgment Day is coming, and we are going to be judged by our works!
Ecclesiastes 12:13, 14
"13 The conclusion, when all has been heard, is: fear God and keep His commandments, because this applies to every person. 14 For God will bring every act to judgment, everything which is hidden, whether it is good or evil."
The fear we must have is a fear that is taught!
Psalms 34:11
"Come, you children, listen to me; I will teach you the fear of Jehovah."
This fear includes a fear of His power, His might, who He is; the mighty Creator of the Universe and all that is therein!
Psalms 33:6-9
"6 By the word of Jehovah the heavens were made, And by the breath of His mouth all their host. 7 He gathers the waters of the sea together as a heap; He lays up the deeps in storehouses. 8 Let all the earth fear Jehovah; Let all the inhabitants of the world stand in awe of Him. 9 For He spoke, and it was done; He commanded, and it stood fast.
Psalms 89:5-9
"5 The heavens will praise Your wonders, O Jehovah; Your faithfulness also in the assembly of the holy ones. 6 For who in the skies is comparable to Jehovah? Who among the sons of the mighty is like Jehovah, 7 A God greatly feared in the council of the holy ones, and awesome above all those who are around Him? 8 O Jehovah God of hosts, who is like You, O mighty Jehovah? Your faithfulness also surrounds You. 9 You rule the swelling of the sea; when its waves rise, You still them.
Jeremiah 5:22-25
"22 'Do you not fear Me?' declares Jehovah. 'Do you not tremble in My presence? For I have placed the sand as a boundary for the sea, an eternal decree, so it cannot cross over it. Though the waves toss, yet they cannot prevail; though they roar, yet they cannot cross over it. 23 But this people has a stubborn and rebellious heart; they have turned aside and departed. 24 They do not say in their heart, 'Let us now fear Jehovah our God, who gives rain in its season, both the autumn rain and the spring rain, who keeps for us the appointed weeks of the harvest.' 25 Your iniquities have turned these away, and your sins have withheld good from you."
Amos 5:8, 9
"8 He who made the Pleiades and Orion And changes deep darkness into morning, who also darkens day into night, who calls for the waters of the sea and pours them out on the surface of the earth, Jehovah is His name. 9 It is He who flashes forth with destruction upon the strong, so that destruction comes upon the fortress."

King Darius of the Chaldeans understood this after Daniel came out of the lions' den:
Daniel 6:25-27
"25 Then Darius the king wrote to all the peoples, nations and men of every language who were living in all the land: 'May your peace abound! 26 I make a decree that in all the dominion of my kingdom men are to fear and tremble before the God of Daniel;
For He is the living God and enduring forever, and His kingdom is one which will not be destroyed, and His dominion will be forever. 27 He delivers and rescues and performs signs and wonders in heaven and on earth, who has also delivered Daniel from the power of the lions.' "
But many today don't properly fear God, and therefore they add to and take away from His inspired word, and seek to worship Him by ways He has not authorized!
They would rather enjoy sinning than obeying the will of their Creator, who gives them all good things to enjoy!
Some today even refer to Jehovah God as 'Daddy'! This shows a proper lack of fear and reverence toward the great Creator of all the Universe and life. This attitude brings the Creator down to the level of man, and disrespects Him!
Others take up the idol of falsehood and lies to believe in 'Darwinian evolution', so they can get the Creator completely out of the picture, and then they are accountable to no one! They can do whatever their heart desires!
They do not have the 'fear' of God within them:
Romans 3:18
"There is no fear of God before their eyes."
Remember the Israelites when Jehovah closed up the Red Sea upon the Egyptians -
Exodus 14:30, 31
"30 Thus Jehovah saved Israel that day from the hand of the Egyptians, and Israel saw the Egyptians dead on the seashore. 31 When Israel saw the great power which Jehovah had used against the Egyptians, the people feared Jehovah, and they believed on Jehovah and in His servant Moses."
Compare carefully the following verses in the New Testament to christians:
Hebrews 12:18-29
"18 For you have not come to a mountain that can be touched and to a blazing fire, and to darkness and gloom and whirlwind, 19 and to the blast of a trumpet and the sound of words which sound was such that those who heard begged that no further word be spoken to them. 20 For they could not bear the command, 'If even a beast touches the mountain, it will be stoned.' 21 And so terrible was the sight, that Moses said, 'I am full of fear and trembling.' 22 But you have come to Mount Zion and to the city of the living God, the heavenly Jerusalem, and to myriads of angels, 23 to the general assembly and church of the firstborn who are enrolled in heaven, and to God, the judge of all, and to the spirits of the righteous made perfect, 24 and to Jesus, the mediator of a new covenant, and to the sprinkled blood, which speaks better than the blood of Abel. 25 See to it that you do not refuse Him who is speaking. For it those did not escape when they refused him who warned them on earth, much less will we escape who turn away from Him who warns from heaven. 26 And His voice shook the earth then, but now He has promised saying, 'Yet once more I will shake not only the earth, but also the heaven.' 27 The expression, 'Yet once more,' denotes the removing of those things which can be shaken, as of created things, so that those things which cannot be shaken may remain. 28 Therefore, since we receive a kingdom which cannot be shaken, let us show gratitude, by which we may offer to God an acceptable service with reverence and awe (godly fear); 29 for our God is a consuming fire."
We need to remember the Israelites before the mountain of God, and notice the fear they displayed when God came down to Mt. Sinai and following -
Exodus 20:18-20
"18 All the people perceived the thunder and the lightning flashes and the sound of the trumpet and the mountain smoking; and when the people saw it, they trembled and stood at a distance. 19 Then they said to Moses, 'Speak to us yourself and we will listen; but let not God speak to us, or we will die.' 20 Moses said to the people, 'Do not be afraid; for God has come in order to test you, and in order that the fear of Him may remain with you, so that you may not sin.' "
Deuteronomy 5:22 - 29
"22 These words Jehovah spoke to all your assembly at the mountain from the midst of the fire, of the cloud and of the thick gloom, with a great voice, and He added no more. He wrote them on two tablets of stone and gave them to me. 23 And when you heard the voice from the midst of the darkness, while the mountain was burning with fire; you came near to me, all the heads of your tribes and your elders. 24 You said, 'Behold, Jehovah our God has shown us His glory and His greatness, and we have heard His voice from the midst of the fire; we have seen today that God speaks with man, yet he lives. 25 Now then why should we die? For this great fire will consume us; if we hear the voice of Jehovah our God any longer, then we will die. 26 For who is there of all flesh who has heard the voice of the living God speaking from the midst of the fire, as we have, and lived? 27 Go near and hear all that Jehovah our God says; then speak to us all that Jehovah our God speaks to you, and we will hear and do it.' " 28 And Jehovah heard the voice of your words when you spoke to me, and Jehovah said to me, 'I have heard the voice of the words of this people which they have spoken. 29 Oh, that they had such a heart in them, that they would fear Me and keep all My commandments always, that it may be well with them and with their sons forever!' "
Deuteronomy 6:1, 2
"1 Now this is the commandment, the statutes and the judgments which Jehovah your God has commanded me to teach you, that you might do them in the land where you are going over to possess it, 2 so that you and your son and your grandson might fear Jehovah your God, to keep all His statutes and His commandments which I command you, all the days of your life, and that your days may be prolonged."
How INTENSE was this? Notice verses 4-9:
Deuteronomy 6:4-9
"4 Hear O Israel: Jehovah our God is one Jehovah: 5 and you shall love Jehovah your God with all your heart and with all your soul and with all your might. 6 These words which I am commanding you today, shall be on your heart. 7 You shall teach them diligently to your sons and shall talk of them when you sit in your house and when you walk by the way and when you lie down and when you rise up. 8 You shall bind them as a sign on your hand and they shall be as frontals on your forehead. 9 You shall write them on the doorposts of your house and on your gates."
Deuteronomy 6:24
"So Jehovah commanded us to observe all these statutes, to fear Jehovah our God for our good always and for our survival, as it is today."
Deuteronomy 8:6
"Therefore, you shall keep the commandments of Jehovah your God, to walk in His ways and to fear Him."
Deuteronomy 13:4
"You shall follow Jehovah your God and fear Him; and you shall keep His commandments, listen to His voice, serve Him, and cling to Him."
Notice that they could NOT ADD TO, or TAKE AWAY from God's will!
Deuteronomy 4:1, 2
"1 Now, O Israel, listen to the statutes and the judgments which I am teaching you to perform, so that you may live and go in and take possession of the land which Jehovah, the God of your fathers, is giving you. 2 You shall not add to the word which I am commanding you, nor take away from it, that you may keep the commandments of Jehovah your God which I command you."
Deuteronomy 12:32
"Whatever I command you, you shall be careful to do; you shall not add to nor take away from it."
Proverbs 30:5, 6
"5 Every word of God is tested; He is a shield to those who take refuge in Him. 6 Do not add to His words or He will reprove you, and you will be proved a liar."
Notice that they could not keep God's commandments if they mixed in any doctrines or commandments of men by adding to God's will, or taking away from it!
It is the same today!
We cannot add to or take away from God's word for us today - the New Covenant, the New Testament!
1 Peter 4:11
"Whoever speaks, is to do so as one who is speaking the utterances of God..."
1 Corinthians 4:6, 16, 17
"6 ...that in us you might learn not to go beyond the things which are written..." "16 Therefore I exhort you, be imitators of me. 17 For this reason I have sent to you Timothy, who is my beloved and faithful child in the Lord, and he will remind you of my ways which are in Christ, just as I teach everywhere in every church."
Jude 3
"Beloved, while I was making every effort to write you about our common salvation, I felt the necessity to write to you appealing that you contend earnestly for the faith which was once for all handed down to the saints."
2 John 9
"Anyone who goes too far and does not abide in the teaching of Christ, does not have God; the one who abides in the teaching, he has both the Father and the Son."
2 Corinthians 10:3-5
"3 For though we walk in the flesh, we do not war according to the flesh, 4 for the weapons of our warfare are not of the flesh, but divinely powerful for the destruction of fortresses. 5 We are destroying speculations and every lofty thing raised up against the knowledge of God, and we are taking every thought captive to the obedience of Christ."
Following the traditions of men will cause us to become involved in vain worship, which God will NOT accept!
Matthew 15: 7-9
"7 You hypocrites, rightly did Isaiah prophesy of you: 8 'This people honors Me with their lips, but their heart is far away from Me. 9 But in vain do they worship Me, teaching as doctrines the precepts of men.' "
We must learn to fear our Creator properly!
If we learn to properly fear Jehovah, He will instruct us in the way we should choose:
Psalm 25:12, 14
"12 Who is the man who fears Jehovah? He will instruct him in the way he should choose." "14 The secret (counsel, friendship) of Jehovah is for those who fear Him, and He will make them know His covenant."
John 7:16, 17
"16 So Jesus answered them and said, 'My teaching is not Mine, but His who sent Me. 17 If anyone is willing to do His will, he will know of the teaching, whether it is of God or whether I speak from Myself."
If we learn to properly fear Jehovah, we will keep His word:
Deuteronomy 4:9, 10
"9 Only give heed to yourself and keep your soul diligently, so that you do not forget the things which your eyes have seen and they do not depart from your heart all the days of your life; but make them known to your sons and your grandsons. 10 Remember the day you stood before Jehovah your God at Horeb, when Jehovah said to me, 'Assemble the people to Me, that I may let them hear My words so they may learn to fear Me all the days they live on the earth, and that they may teach their children.' "
Deuteronomy 14:23
"You shall eat in the presence of Jehovah your God, at the place where He chooses to establish His name, the tithe of your grain, your new wine, your oil, and the firstborn of your herd and your flock, so that you may learn to fear Jehovah your God always."
Deuteronomy 17:19
"It shall be with him and he shall read it all the days of his life, that he may learn to fear Jehovah his God, by carefully observing all the words of this law and these statutes,"
Deuteronomy 31:12, 13
"12 Assemble the people, the men and the women and children and the alien who is in your town, so that they may hear and learn and fear Jehovah your God, and be careful to observe all the words of this law. 13 Their children, who have not known, will hear and learn to fear Jehovah your God, as long as you live on the land which you are about to cross the Jordan to possess."
If we learn to properly fear Jehovah, we will turn away from evil, and hate it:
Proverbs 3:7
"Do not be wise in your own eyes; fear Jehovah and turn away from evil."
Proverbs 8:13
"The fear of Jehovah is to hate evil; pride and arrogance and the evil way and the perverted mouth, I hate."
If we learn to properly fear Jehovah, it will lead to life:
Proverbs 19:23
"The fear of Jehovah leads to life, so that one may sleep satisfied, untouched by evil."
If we learn to properly fear Jehovah, we will be happy:
Proverbs 28:14
"How blessed (happy) is the man who fears always, but he who hardens his heart will fall into calamity."
If we learn to properly fear Jehovah, we will walk in uprightness:
Proverbs 14:2
"He who walks in his uprightness fears Jehovah, but he who is devious in his ways despises Him."
If we learn to properly fear Jehovah, we will work out our own salvation with fear and trembling:
Philippians 2:12, 13
"12 So then, my beloved, just as you have always obeyed, not as in my presence only, but now much more in my absence, work out your own salvation with fear and trembling; 13 For it is God who is at work in you, both to will and to work for His good pleasure."
This has ALWAYS been the motivating principle that Jehovah God has required from man:
Deuteronomy 10:12 -14
"12 Now, Israel, what does Jehovah your God require from you, but to fear Jehovah your God, to walk in all His ways and love Him, and to serve Jehovah your God with all your heart and with all your soul, 13 and to keep Jehovah's commandments and His statutes which I am commanding you today for your good? 14 Behold, to Jehovah your God belong heaven and the highest heavens, the earth and all that is in it."
If we learn to properly fear Jehovah, we will conduct ourselves in fear:
1 Peter 1:17
"If you address as Father the One who impartially judges according to each one's work, conduct yourselves in fear during the time of your stay on earth;"
If we learn to properly fear Jehovah, we will be subject to one another:
Ephesians 5:20, 21
"giving thanks always and for everything to God the Father in the name of our Lord Jesus Christ, and be subject to one another in the fear of Christ.
If we learn to properly fear Jehovah, we will be perfected in holiness:
2 Corinthians 7:1
"Therefore, having these promises, beloved, let us cleanse ourselves from all defilement of flesh and spirit, perfecting holiness in the fear of God.

HOW DO WE GET THE WISDOM AND UNDERSTANDING FROM GOD?
Job 28:28
"And to man He said, 'Behold, the fear of the Lord that is wisdom; and to depart from evil is understanding.' "
Proverbs 1:7
"The fear of Jehovah is the beginning of knowledge; fools despise wisdom and instruction."
Proverbs 9:10
"The fear of Jehovah is the beginning of wisdom; and the knowledge of the Holy One is understanding."
Proverbs 15:33
"The fear of Jehovah is the instruction of wisdom, and before honor comes humility."
Psalm 111:10
"The fear of Jehovah is the beginning of wisdom; a good understanding have all those who do His commandments; His praise endures forever."
If we don't properly fear God, then we will add to, and take away from His authority, and thus we will distort His Gospel!
Galatians 1:6-10
"6 I am amazed that you are so quickly deserting Him who called you by the grace of Christ, for a different gospel; 7 which is really not another; only there are some who are disturbing you and want to distort the gospel of Christ. 8 But even if we, or an angel from heaven, should preach to you a gospel contrary to what we have preached to you, he is to be accursed! 9 As we have said before, so I say again now, if any man is preaching to you a gospel contrary to what you received, he is to be accursed! 10 For am I seeking the favor of men, or of God? Or am I striving to please men? If I were still trying to please men, I would not be a servant of Christ."
We CAN come short of entering into His rest, heaven, if we don't properly fear God!
Hebrews 4:1
"Therefore, let us fear if, while a promise remains of entering His rest, any one of you may seem to have come short of it."
You may think you are doing fine in this life while not properly fearing God, but we are all going to die physically, unless Jesus Christ comes back first, and we will give answer to Jehovah for how we have lived!
Is it well with your soul?
Ecclesiastes 8:12, 13
"12 Although a sinner does evil a hundred times and may lengthen his life, still I know that it will be well for those who fear God, who fear Him openly. 13 But it will not be well for the evil man and he will not lengthen his days like a shadow, because he does not fear God.


Have you been taught things religiously, and do you practice things religiously, that you can't find authorized in the New Testament?
If so, we encourage you to turn away from them, and seek to properly fear your Creator, Jehovah God, and seek to do His will as He wants you to do.
WHAT MUST I DO TO BE SAVED?
Hear, learn, and come to Jesus Christ!
John 6:44, 45
"44 No one can come to Me unless the Father who sent Me draws him; and I will raise him up on the last day. 45 It is written in the prophets, 'And they shall all be taught of God.' Everyone who has heard and learned from the Father, comes to Me."
HOW?
By believing the Gospel of Jesus Christ, that He is Immanuel, the Messiah, the Word!
Matthew 1:23
"Behold, the virgin shall be with child, and shall bring forth a son, And they shall call His name Immanuel; which is, being interpreted, God with us."
John 4:25, 26
"25 The woman said to Him, 'I know that Messiah is coming (He who is called Christ); when that One comes, He will declare all things to us.' 26 Jesus said to her, ' I who speak to you am He.' "
John 1:1, 14
"1 In the beginning was the Word, and the Word was with God, and the Word was God." "14 And the Word became flesh, and dwelt among us, and we saw His glory, glory as of the only begotten from the Father, full of grace and truth"
John 8:24
"Therefore I said to you that you will die in your sins; for unless you believe that I am He, you will die in your sins."
BUT YOU DO NOT RECEIVE REMISSION OF SINS IN A MENTAL BELIEF ONLY (called Faith Only)
By repenting of our sins!
Luke 13:3
"I tell you, no, but unless you repent, you will all likewise perish."
Acts 2:38
"Peter said to them, ' Repent, and each of you be baptized in the name of Jesus Christ for the forgiveness of your sins; and you will receive the gift of the Holy Spirit.' "
Acts 17:30, 31
"30 Therefore having overlooked the times of ignorance, God is now declaring to men that all people everywhere should repent, 31 because He has fixed a day in which He will judge the world in righteousness through a Man whom He has appointed, having furnished proof to all men by raising Him from the dead."
BUT YOU DO NOT RECEIVE REMISSION OF SINS AT THIS POINT IN OBEDIENCE!
By confessing Christ before men!
Matthew 10:32, 33
"32 Therefore everyone who confesses Me before men, I will also confess him before My Father who is in heaven. 33 But whoever denies Me before men, I will also deny him before My Father who is in heaven."
Romans 10:9, 10
"9 that if you confess with your mouth Jesus as Lord, and believe in your heart that God raised Him from the dead, you will be saved; 10 for with the heart a person believes, unto righteousness, and with the mouth he confesses, unto salvation."
1 Timothy 6:12-16
"12 Fight the good fight of faith; take hold of the eternal life to which you were called, and you made the good confession in the presence of many witnesses. 13 I charge you in the presence of God, who gives life to all things, and of Christ Jesus, who testified the good confession before Pontius Pilate, 14 that you keep the commandment without stain or reproach until the appearing of our Lord Jesus Christ, 15 which He will bring about at the proper time—He who is the blessed and only Sovereign, the King of kings and Lord of lords, 16 who alone possesses immortality and dwells in unapproachable light, whom no man has seen or can see. To Him be honor and eternal dominion! Amen."
BUT YOU DO NOT RECEIVE REMISSION OF SINS AT THIS POINT IN OBEDIENCE!
By being baptized into Christ!
NOTE: This is immersion in water 'INTO CHRIST'
for (UNTO, IN ORDER TO) the forgiveness, the remission of your sins!
This is NOT sprinkling or pouring!
John 3:5
"Jesus answered, 'Truly, truly, I say to you, unless one is born of water and the Spirit he cannot enter into the kingdom of God.' "
Romans 6:1-7
"1 What shall we say then? Are we to continue in sin so that grace may increase? 2 May it never be! How shall we who died to sin still live in it? 3 Or do you not know that all of us who have been baptized into Christ Jesus have been baptized into His death? 4 Therefore we have been buried with Him through baptism into death, so that as Christ was raised from the dead through the glory of the Father, so we too might walk in newness of life. 5 For if we have become united with Him in the likeness of His death, certainly we shall also be in the likeness of His resurrection, 6 knowing this, that our old self was crucified with Him, in order that our body of sin might be done away with, so that we would no longer be slaves to sin; 7 for he who has died is freed from sin."
Acts 2:37-42
"37 Now when they heard this, they were pierced to the heart, and said to Peter and the rest of the apostles, 'Brethren, what shall we do?' 38 Peter said to them, 'Repent, and each of you be baptized in the name of Jesus Christ for the forgiveness of your sins; and you will receive the gift of the Holy Spirit. 39 For the promise is for you and your children and for all who are far off, as many as the Lord our God will call to Himself.' 40 And with many other words he solemnly testified and kept on exhorting them, saying, 'Be saved from this perverse generation!' 41 So then, those who had received his word were baptized; and that day there were added about three thousand souls. 42 They were continually devoting themselves to the apostles' teaching and to fellowship, to the breaking of bread and to prayer."
Notice in the above Scripture that only those who 'received his word' obeyed the gospel!
John 1:12
"But as many as received Him, to them He gave the right to become children of God, even to those who believe in His name, 13 who were born, not of blood nor of the will of the flesh nor of the will of man, but of God."
Have you yet been involved in the 'new birth' from above?
Have you yet been baptized for the correct reason?
Some are baptized today because they have been taught they have already been saved by 'faith only', and that water immersion is only an 'outward sign of an inward change'!
BUT NOTICE THAT 'PREACHING JESUS' INCLUDES WATER BAPTISM!
Acts 8:35-39
"35 Then Philip opened his mouth, and beginning from this Scripture he preached Jesus to him. 36 As they went along the road they came to some water; and the eunuch said, 'Look! Water! What prevents me from being baptized?' 37 [And Philip said, 'If you believe with all your heart, you may.' And he answered and said, 'I believe that Jesus Christ is the Son of God.'] 38 And he ordered the chariot to stop; and they both went down into the water, Philip as well as the eunuch, and he baptized him. 39 When they came up out of the water, the Spirit of the Lord snatched Philip away; and the eunuch no longer saw him, but went on his way rejoicing."
Acts 10:47, 48
" 'Surely no one can refuse the water for these to be baptized who have received the Holy Spirit just as we did, can he?' 48 And he ordered them to be baptized in the name of Jesus Christ. Then they asked him to stay on for a few days."
This is where we meet His soul saving blood (figuratively of course) which washes away our sins!
Revelation 1:5, 6
"and from Jesus Christ, the faithful witness, the firstborn of the dead, and the ruler of the kings of the earth. To Him who loves us and released us from our sins by His blood" 6 and He has made us to be a kingdom, priests to His God and Father—to Him be the glory and the dominion forever and ever. Amen."
Acts 22:16
"Now why do you delay? Get up and be baptized, and wash away your sins, calling on His name."
I Peter 3:20-22
"20 who once were disobedient, when the patience of God kept waiting in the days of Noah, during the construction of the ark, in which a few, that is, eight persons, were brought safely through the water. 21 Corresponding to that, baptism now saves you—not the removal of dirt from the flesh, but an appeal to God for a good conscience—through the resurrection of Jesus Christ, 22 who is at the right hand of God, having gone into heaven, after angels and authorities and powers had been subjected to Him."
There is not any power in the water (water salvation), but it is DOING what God commands us to do, in HIS WAY , according to HIS TRUTH, which is an appeal to God for a good conscience through Christ's resurrection, by doing His will!
Also notice that is how Jesus purchased His church, with His own blood!
But why are people telling us today that the church isn't important!
Acts 20:28
"Be on guard for yourselves and for all the flock, among which the Holy Spirit has made you overseers, to shepherd the church of God which He purchased with His own blood."
Therefore we read:
1 Corinthians 12:13
"For by one Spirit we were all baptized into one body, whether Jews or Greeks, whether slaves or free, and we were all made to drink of one Spirit."
Christ Jesus is the Savior of this body, the church, which is His kingdom!
Ephesians 5:23
"For the husband is the head of the wife, as Christ also is the head of the church, He Himself being the Savior of the body."
Matthew 16:15-19
"15 He said to them, 'But who do you say that I am?' 16 Simon Peter answered, 'You are the Christ, the Son of the living God.' 17 And Jesus said to him, 'Blessed are you, Simon Barjona, because flesh and blood did not reveal this to you, but My Father who is in heaven. 18 I also say to you that you are Peter, and upon this rock I will build My church; and the gates of Hades will not overpower it. 19 I will give you the keys of the kingdom of heaven; and whatever you bind on earth shall have been bound in heaven, and whatever you loose on earth shall have been loosed in heaven.' "
The rock upon which Christ's church was built was the Truth which Peter had just stated that Jesus Christ is the Son of the living God! The Lord's church was NOT built upon Peter!
Ephesians 1:22, 23
"22 And He put all things in subjection under His feet, and gave Him as head over all things to the church, 23 which is His body, the fullness of Him who fills all in all."
Ephesians 4:4-6
"4 There is one body and one Spirit, just as also you were called in one hope of your calling; 5 one Lord, one faith, one baptism, 6 one God and Father of all who is over all and through all and in all."
Notice only one body, which is His church, His kingdom, just as there is only one baptism, which is water immersion into Christ!
This is how we put Christ on!
Galatians 3:26-29
"26 For you are all sons of God through faith in Christ Jesus. 27 For all of you who were baptized into Christ have put on Christ. 28 There is neither Jew nor Greek, there is neither slave nor free man, there is neither male nor female; for you are all one in Christ Jesus. 29 And if you belong to Christ, then you are Abraham's descendants, heirs according to promise."
YES, YOU DO RECEIVE REMISSION (FORGIVENESS) OF SINS AT THIS POINT IN OBEDIENCE!
Notice the examples of conversion in the book of Acts: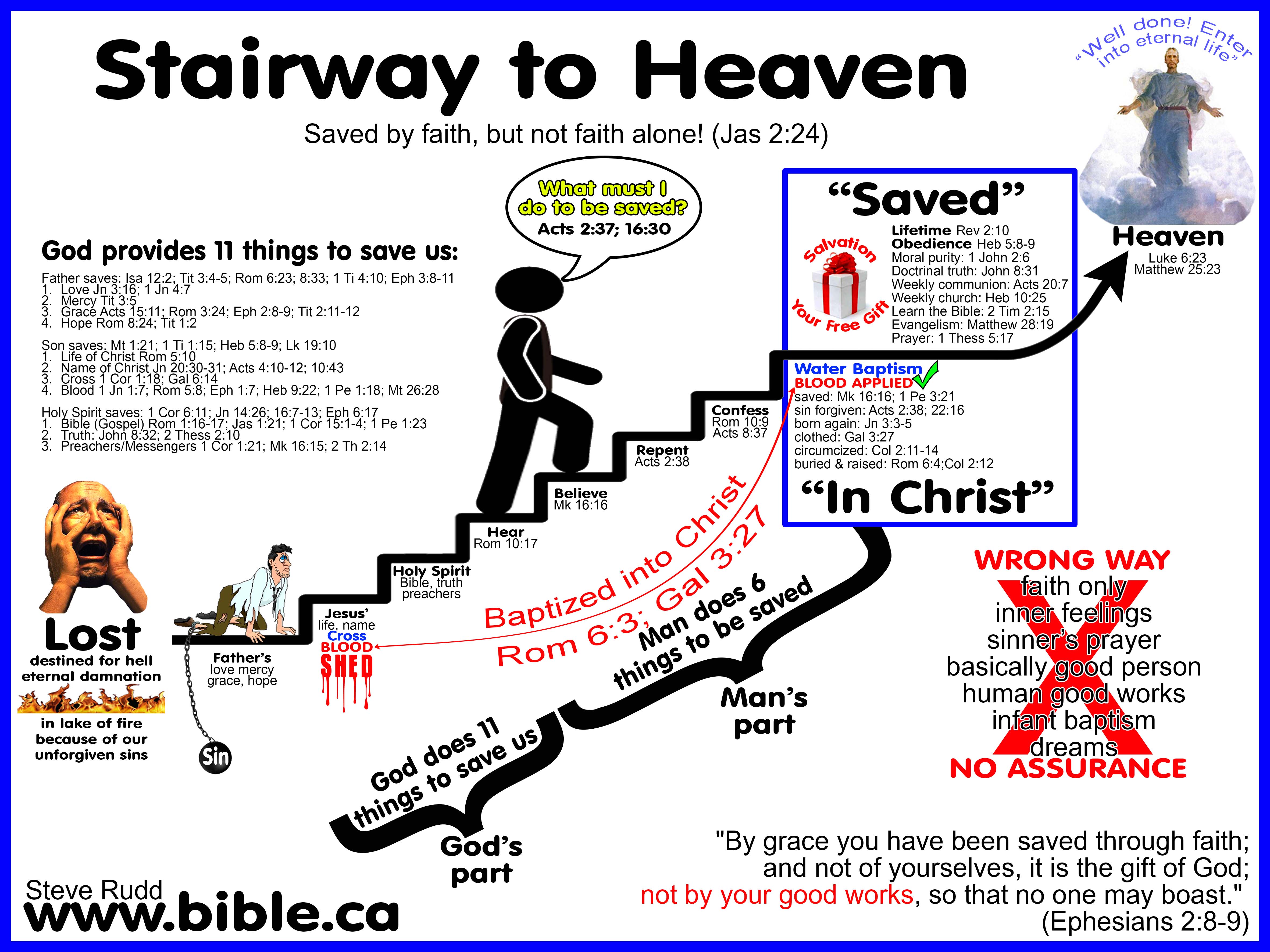 Are you in this church you read about in the New Testament?
Have you correctly put Christ on yet?
IS THE FEAR OF JEHOVAH YOUR TREASURE?
Isaiah 33:5, 6
"5 JEHOVAH is exalted; for he dwelleth on high: he hath filled Zion with judgment and righteousness. 6 And wisdom and knowledge shall be the stability of thy times, and strength of salvation: the FEAR of JEHOVAH is his TREASURE.
IT IS UP TO YOU!
WILL YOU PROPERLY FEAR JEHOVAH AND TURN AWAY FROM ANY TEACHING THAT IS NOT FOUND IN THE NEW TESTAMENT?
I PRAY THAT YOU WILL, AND PROPERLY OBEY THE GOSPEL OF JESUS CHRIST FOUND ONLY IN THE NEW TESTAMENT.
The churches of Christ (non-institutional)
Please go to: AUTHORITY IN RELIGION
FOR MORE BIBLE STUDIES, GO TO TRUTHSEARCHER.COM
<![if !vml]> <![endif]>