<![if !vml]><![endif]> Translate
THE UNSEARCHABLE GOD!
David L. Odom
Romans 11:33-36
"33 The depth of the riches both of the wisdom and the knowledge of God! How unsearchable are His judgments, and His ways past tracing out! 34 For who hath known the mind of the Lord? 35 or who hath first given to Him, and it shall be recompensed unto Him again? 36 For of Him, and through Him, and unto Him, are all things. To Him be the glory for ever. Amen."
1. THE DEPTH (OF GOD): Bathos, called "deep things of God" in
I Corinthians 2:10
"But God hath revealed them unto us by his Spirit: for the Spirit searcheth all things, yes, the deep things of God."
a.This is a metaphor referring to those "things hidden and above man's scrutiny." This involves "An inexhaustible abundance, immense amount." This 'depth' of God can only be found in one place, through an active faith in the Creator through Jesus Christ!
Ephesians 3:17-21
"17 so that Christ may dwell in your hearts through faith; and that you, being rooted and grounded in love, 18 may be able to comprehend with all the saints what is the breadth and length and height and depth, 19 and to know the love of Christ which surpasses knowledge, that you may be filled up to all the fullness of God. 20 Now to Him who is able to do far more abundantly beyond all that we ask or think, according to the power that works within us, 21 to Him be the glory in the church and in Christ Jesus to all generations forever and ever. Amen"
2. RICHES (OF GOD): Ploutos, "Fullness, abundance, plenitude"; "The fullness of God's perfection's; of spiritual and moral riches, of His goodness, forbearance and long-suffering."

a. We see His deep and profound riches given to men through Jesus Christ, His only begotten Son:
Philippians 4:19
"And my God will supply all your needs according to His riches in glory in Christ Jesus."

b. This comes only through that which is preached, the Gospel of Jesus Christ:
Ephesians 3:8-12
"8 To me, the very least of all saints, this grace was given, to preach to the Gentiles the unfathomable riches of Christ, 9 and to bring to light what is the administration of the mystery which for ages has been hidden in God who created all things; 10 so that the manifold wisdom of God might now be made known through the church to the rulers and the authorities in the heavenly places. 11 This was in accordance with the eternal purpose which He carried out in Christ Jesus our Lord, 12 in whom we have boldness and confident access through faith in Him."
c. In other words, Paul is saying that through preaching the Gospel, he would track the untrackable, trace the untraceable, and search the unsearchable riches of His Creator!

3. WISDOM (OF GOD): Sophia, "Supreme intelligence, such as belongs to God; the wisdom of God as shown in forming and executing His counsels:
I Corinthians 1:18-21, 24, 25
"18 For the word of the cross is foolishness to those who are perishing, but to us who are being saved it is the power of God. 19 For it is written, "I WILL DESTROY THE WISDOM OF THE WISE, AND THE CLEVERNESS OF THE CLEVER I WILL SET ASIDE." 20 Where is the wise man? Where is the scribe? Where is the debater of this age? Has not God made foolish the wisdom of the world? 21 For since in the wisdom of God the world through its wisdom did not come to know God, God was well-pleased through the foolishness of the message preached to save those who believe." "24 but to those who are the called, both Jews and Greeks, Christ the power of God and the wisdom of God. 25 Because the foolishness of God is wiser than men, and the weakness of God is stronger than men."
a. Wisdom is the choice of the best means to accomplish the best ends. Thus God did such through the Gospel of Jesus Christ:
Romans 1:16; 6:16-18
"16 For I am not ashamed of the gospel, for it is the power of God for salvation to everyone who believes, to the Jew first and also to the Greek." "6:16 Do you not know that when you present yourselves to someone as slaves for obedience, you are slaves of the one whom you obey, either of sin resulting in death, or of obedience resulting in righteousness? 17 But thanks be to God that though you were slaves of sin, you became obedient from the heart to that form of teaching to which you were committed, 18 and having been freed from sin, you became slaves of righteousness."
Hebrews 5:9
"And having been made perfect, He became unto all them that obey him the author of eternal salvation;"
1 Peter 1:22
"Seeing you have purified your souls in your obedience to the truth unto unfeigned love of the brethren, love one another from the heart fervently:"

4. KNOWLEDGE (OF GOD) Gnosis, This is not referring to what God knows here, but to what is known, or may be known about Him. It refers to the things revealed about Him, and His plans:
Proverbs 2:1-11
"1 My son, if you will receive my words and treasure my commandments within you, 2 Make your ear attentive to wisdom, incline your heart to understanding; 3 For if you cry for discernment, Lift your voice for understanding; 4 If you seek her as silver and search for her as for hidden treasures; 5 Then you will discern the fear of the Lord and discover the knowledge of God. 6 For the Lord gives wisdom; from His mouth come knowledge and understanding. 7 He stores up sound wisdom for the upright; He is a shield to those who walk in integrity, 8 Guarding the paths of justice, and He preserves the way of His godly ones. 9 Then you will discern righteousness and justice and equity and every good course. 10 For wisdom will enter your heart
and knowledge will be pleasant to your soul; 11 Discretion will guard you,
Understanding will watch over you,"
Colossians 1:9-12
"9 For this reason also, since the day we heard of it, we have not ceased to pray for you and to ask that you may be filled with the knowledge of His will in all spiritual wisdom and understanding, 10 so that you will walk in a manner worthy of the Lord, to please Him in all respects, bearing fruit in every good work and increasing in the knowledge of God; 11 strengthened with all power, according to His glorious might, for the attaining of all steadfastness and patience; joyously 12 giving thanks to the Father, who has qualified us to share in the inheritance of the saints in Light."
2 Peter 3:17, 18
"17 You therefore, beloved, knowing this beforehand, be on your guard so that you are not carried away by the error of unprincipled men and fall from your own steadfastness, 18 but grow in the grace and knowledge of our Lord and Savior Jesus Christ. To Him be the glory, both now and to the day of eternity. Amen."
a. This is referring to what God has revealed unto us.
Remember Deuteronomy 29:29
"The secret things belong to the Lord our God, but the things revealed belong to us and to our sons forever, that we may observe all the words of this law."
Yes, only as God reveals Himself may we know His mind, therefore: "How unsearchable are His judgments, and His ways past tracing out! For who hath known the mind of the Lord? Or who hath been His counselor? Or who hath first given to Him and it shall be recompensed unto Him again? For of Him, and through Him, and unto Him, are all things. To Him be the glory for ever, Amen" (Romans 11:33b-36)
b. No, man cannot search out God, His judgments, His ways, without revelation from Him. We can see the movements of His great Creation, but we cannot trace out how He holds all things together and how all things consist within Him.

c. These great truths about the Creator have been known from the beginning:
Isaiah 40:21, 22
"21 Do you not know? Have you not heard? Has it not been declared to you from the beginning? Have you not understood from the foundations of the earth? 22 It is He who sits above the circle of the earth, and its inhabitants are like grasshoppers, who stretches out the heavens like a curtain and spreads them out like a tent to dwell in."
d. God needs not counselors as even great men do!

Isaiah 40:12-14

"12 Who has measured the waters in the hollow of His hand, and marked off the heavens by the span, and calculated the dust of the earth by the measure, and weighed the mountains in a balance and the hills in a pair of scales? 13 Who has directed the Spirit of the Lord, or as His counselor has informed Him? 14 With whom did He consult and who gave Him understanding? and who taught Him in the path of justice and taught Him knowledge and informed Him of the way of understanding?"
e. God is in debt to no created being:

Job 41:11

"Who has given to Me that I should repay him? Whatever is under the whole heaven is Mine."

Thus, His ways are good, safe, wise, and happy. We should be humbly obedient to God, because He makes no mistakes! Job found this out:

Job 42:1-6

"1 Then Job answered the Lord and said, 2 'I know that You can do all things, and that no purpose of Yours can be thwarted. 3 Who is this that hides counsel without knowledge? Therefore I have declared that which I did not understand, things too wonderful for me, which I did not know. 4 Hear, now, and I will speak; I will ask You, and You instruct me. 5 I have heard of You by the hearing of the ear; but now my eye sees You; 6 Therefore I retract, and I repent in dust and ashes.'"

(Read the book of Job when you can, it is a great book to further understand the power and might of our Creator!)
Now, how will you respond to the Creators teaching on what we must do in order to be saved in His sight? Will we follow His way? Or, will we follow what might have been taught us by our parents, or someone else, that adds to or takes away from God's word?
WHAT MUST I DO TO BE SAVED?
Hear, learn, and come to Jesus Christ!
John 6:44, 45
"44 No one can come to Me unless the Father who sent Me draws him; and I will raise him up on the last day. 45 It is written in the prophets, 'And they shall all be taught of God.' Everyone who has heard and learned from the Father, comes to Me."
HOW?
By believing the Gospel of Jesus Christ, that He is Immanuel, the Messiah, the Word!
Matthew 1:23
"Behold, the virgin shall be with child, and shall bring forth a son, And they shall call His name Immanuel; which is, being interpreted, God with us."
John 4:25, 26
"25 The woman said to Him, 'I know that Messiah is coming (He who is called Christ); when that One comes, He will declare all things to us.' 26 Jesus said to her, ' I who speak to you am He.' "
John 1:1, 14
"1 In the beginning was the Word, and the Word was with God, and the Word was God." "14 And the Word became flesh, and dwelt among us, and we saw His glory, glory as of the only begotten from the Father, full of grace and truth"
John 8:24
"Therefore I said to you that you will die in your sins; for unless you believe that I am He, you will die in your sins."
BUT YOU DO NOT RECEIVE REMISSION OF SINS IN A MENTAL BELIEF ONLY (called Faith Only)
By repenting of our sins!
Luke 13:3
"I tell you, no, but unless you repent, you will all likewise perish."
Acts 2:38
"Peter said to them, ' Repent, and each of you be baptized in the name of Jesus Christ for the forgiveness of your sins; and you will receive the gift of the Holy Spirit.' "
Acts 17:30, 31
"30 Therefore having overlooked the times of ignorance, God is now declaring to men that all people everywhere should repent, 31 because He has fixed a day in which He will judge the world in righteousness through a Man whom He has appointed, having furnished proof to all men by raising Him from the dead."
BUT YOU DO NOT RECEIVE REMISSION OF SINS AT THIS POINT IN OBEDIENCE!
By confessing Christ before men!
Matthew 10:32, 33
"32 Therefore everyone who confesses Me before men, I will also confess him before My Father who is in heaven. 33 But whoever denies Me before men, I will also deny him before My Father who is in heaven."
Romans 10:9, 10
"9 that if you confess with your mouth Jesus as Lord, and believe in your heart that God raised Him from the dead, you will be saved; 10 for with the heart a person believes, unto righteousness, and with the mouth he confesses, unto salvation."
1 Timothy 6:12-16
"12 Fight the good fight of faith; take hold of the eternal life to which you were called, and you made the good confession in the presence of many witnesses. 13 I charge you in the presence of God, who gives life to all things, and of Christ Jesus, who testified the good confession before Pontius Pilate, 14 that you keep the commandment without stain or reproach until the appearing of our Lord Jesus Christ, 15 which He will bring about at the proper time—He who is the blessed and only Sovereign, the King of kings and Lord of lords, 16 who alone possesses immortality and dwells in unapproachable light, whom no man has seen or can see. To Him be honor and eternal dominion! Amen."
BUT YOU DO NOT RECEIVE REMISSION OF SINS AT THIS POINT IN OBEDIENCE!
By being baptized into Christ!
NOTE: This is immersion in water 'INTO CHRIST'
for (UNTO, IN ORDER TO) the forgiveness, the remission of your sins!
This is NOT sprinkling or pouring!
John 3:5
"Jesus answered, 'Truly, truly, I say to you, unless one is born of water and the Spirit he cannot enter into the kingdom of God.' "
Romans 6:1-7
"1 What shall we say then? Are we to continue in sin so that grace may increase? 2 May it never be! How shall we who died to sin still live in it? 3 Or do you not know that all of us who have been baptized into Christ Jesus have been baptized into His death? 4 Therefore we have been buried with Him through baptism into death, so that as Christ was raised from the dead through the glory of the Father, so we too might walk in newness of life. 5 For if we have become united with Him in the likeness of His death, certainly we shall also be in the likeness of His resurrection, 6 knowing this, that our old self was crucified with Him, in order that our body of sin might be done away with, so that we would no longer be slaves to sin; 7 for he who has died is freed from sin."
Acts 2:37-42
"37 Now when they heard this, they were pierced to the heart, and said to Peter and the rest of the apostles, 'Brethren, what shall we do?' 38 Peter said to them, 'Repent, and each of you be baptized in the name of Jesus Christ for the forgiveness of your sins; and you will receive the gift of the Holy Spirit. 39 For the promise is for you and your children and for all who are far off, as many as the Lord our God will call to Himself.' 40 And with many other words he solemnly testified and kept on exhorting them, saying, 'Be saved from this perverse generation!' 41 So then, those who had received his word were baptized; and that day there were added about three thousand souls. 42 They were continually devoting themselves to the apostles' teaching and to fellowship, to the breaking of bread and to prayer."
Notice in the above Scripture that only those who 'received his word' obeyed the gospel!
John 1:12
"But as many as received Him, to them He gave the right to become children of God, even to those who believe in His name, 13 who were born, not of blood nor of the will of the flesh nor of the will of man, but of God."
Have you yet been involved in the 'new birth' from above?
Have you yet been baptized for the correct reason?
Some are baptized today because they have been taught they have already been saved by 'faith only', and that water immersion is only an 'outward sign of an inward change'!
BUT NOTICE THAT 'PREACHING JESUS' INCLUDES WATER BAPTISM!
Acts 8:35-39
"35 Then Philip opened his mouth, and beginning from this Scripture he preached Jesus to him. 36 As they went along the road they came to some water; and the eunuch said, 'Look! Water! What prevents me from being baptized?' 37 [And Philip said, 'If you believe with all your heart, you may.' And he answered and said, 'I believe that Jesus Christ is the Son of God.'] 38 And he ordered the chariot to stop; and they both went down into the water, Philip as well as the eunuch, and he baptized him. 39 When they came up out of the water, the Spirit of the Lord snatched Philip away; and the eunuch no longer saw him, but went on his way rejoicing."
Acts 10:47, 48
" 'Surely no one can refuse the water for these to be baptized who have received the Holy Spirit just as we did, can he?' 48 And he ordered them to be baptized in the name of Jesus Christ. Then they asked him to stay on for a few days."
This is where we meet His soul saving blood (figuratively of course) which washes away our sins!
Revelation 1:5, 6
"and from Jesus Christ, the faithful witness, the firstborn of the dead, and the ruler of the kings of the earth. To Him who loves us and released us from our sins by His blood" 6 and He has made us to be a kingdom, priests to His God and Father—to Him be the glory and the dominion forever and ever. Amen."
Acts 22:16
"Now why do you delay? Get up and be baptized, and wash away your sins, calling on His name."
I Peter 3:20-22
"20 who once were disobedient, when the patience of God kept waiting in the days of Noah, during the construction of the ark, in which a few, that is, eight persons, were brought safely through the water. 21 Corresponding to that, baptism now saves you—not the removal of dirt from the flesh, but an appeal to God for a good conscience—through the resurrection of Jesus Christ, 22 who is at the right hand of God, having gone into heaven, after angels and authorities and powers had been subjected to Him."
There is not any power in the water (water salvation), but it is DOING what God commands us to do, in HIS WAY , according to HIS TRUTH, which is an appeal to God for a good conscience through Christ's resurrection, by doing His will!
Also notice that is how Jesus purchased His church, with His own blood!
But why are people telling us today that the church isn't important!
Acts 20:28
"Be on guard for yourselves and for all the flock, among which the Holy Spirit has made you overseers, to shepherd the church of God which He purchased with His own blood."
Therefore we read:
1 Corinthians 12:13
"For by one Spirit we were all baptized into one body, whether Jews or Greeks, whether slaves or free, and we were all made to drink of one Spirit."
Christ Jesus is the Savior of this body, the church, which is His kingdom!
Ephesians 5:23
"For the husband is the head of the wife, as Christ also is the head of the church, He Himself being the Savior of the body."
Matthew 16:15-19
"15 He said to them, 'But who do you say that I am?' 16 Simon Peter answered, 'You are the Christ, the Son of the living God.' 17 And Jesus said to him, 'Blessed are you, Simon Barjona, because flesh and blood did not reveal this to you, but My Father who is in heaven. 18 I also say to you that you are Peter, and upon this rock I will build My church; and the gates of Hades will not overpower it. 19 I will give you the keys of the kingdom of heaven; and whatever you bind on earth shall have been bound in heaven, and whatever you loose on earth shall have been loosed in heaven.' "
The rock upon which Christ's church was built was the Truth which Peter had just stated that Jesus Christ is the Son of the living God! The Lord's church was NOT built upon Peter!
Ephesians 1:22, 23
"22 And He put all things in subjection under His feet, and gave Him as head over all things to the church, 23 which is His body, the fullness of Him who fills all in all."
Ephesians 4:4-6
"4 There is one body and one Spirit, just as also you were called in one hope of your calling; 5 one Lord, one faith, one baptism, 6 one God and Father of all who is over all and through all and in all."
Notice only one body, which is His church, His kingdom, just as there is only one baptism, which is water immersion into Christ!
This is how we put Christ on!
Galatians 3:26-29
"26 For you are all sons of God through faith in Christ Jesus. 27 For all of you who were baptized into Christ have put on Christ. 28 There is neither Jew nor Greek, there is neither slave nor free man, there is neither male nor female; for you are all one in Christ Jesus. 29 And if you belong to Christ, then you are Abraham's descendants, heirs according to promise."
YES, YOU DO RECEIVE REMISSION (FORGIVENESS) OF SINS AT THIS POINT IN OBEDIENCE!
Notice the examples of conversion in the book of Acts: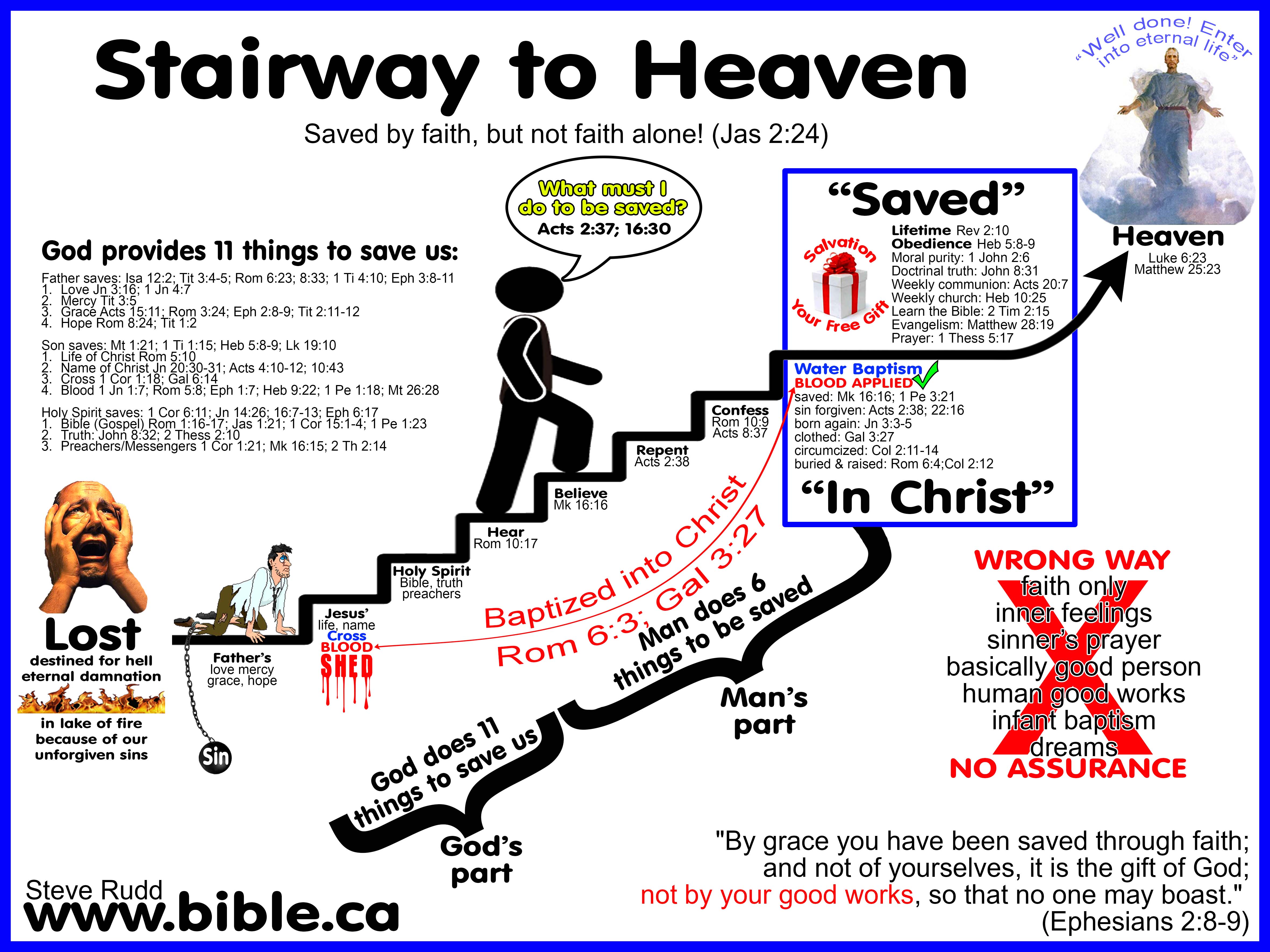 Are you in this church you read about in the New Testament?
Have you correctly put Christ on yet?
The churches of Christ (non-institutional)
<![if !vml]>
<![if !vml]> <![endif]>