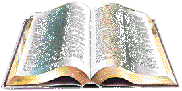 DEUTERONOMY 4:1,2
1 Now, O Israel, listen to the statutes and the judgments which I am teaching you to perform, so that you may live and go in and take possession of the land which Jehovah, the God of your fathers, is giving you. 2 You shall not add to the word which I am commanding you, nor take away from it, that you may keep the commandments of Jehovah your God which I command you.
PROVERBS 30:5,6
5 Every word of God is tested: He is a shield to those who take refuge in Him. 6 Do not Add to His words, or He will reprove you, and you will be proved a liar.
REVELATION 22:18,19
18 I testify to everyone who hears the words of the prophecy of this book: If anyone adds to them, God will add to him the plagues which are written in this book: 19 and if anyone takes away from the words of the book of this prophecy, God will take away his part from the tree of life and from the holy city, which are written in this book.